One of my favorite advances in home remodeling over the past decade or so has been a shift in the philosophy of bathroom design.  Years ago, most people thought of their bathrooms as a place that should be hidden away.  A cold, sterile environment that was there to do a job, and nothing more. But more and more, homeowners have realized that the bathroom is a place where they spend time every day, so why not make it a place they feel comfortable and happy…  A place that reflects their design tastes just as much as their kitchen or bedroom.  To me, that all starts with the flooring. And in a bathroom, when you're talking about flooring, tile is clearly the most popular option.
Here are some tile styles that will help take your bathroom from drab and boring to trendy and exciting:
Large Format Tiles
 Up until recently, many bathroom floors were covered with hundreds of tiny little tiles.  But today's trends calls for the complete opposite.  These large format tiles are a more modern approach, with sizes starting at 12" by 12" or 12" by 24", and ranging up to sizes that are just plain gigantic!  I personally think if you are going for a large tile, you at least want to choose a tile around 16".  Obviously, the layout of your bathroom is one of the factors to consider when you and your designer are trying to decide just how big you should go.  But to me, the bigger your bathroom tiles the better!  Don't think that these large format tiles are just a design concept either.   They also have another major benefit. See, using large format tiles results in less grout lines.  That means less grout to clean, which allows you to keep your bathroom fresh without spending nearly as much time scrubbing the floors.  These are a few patterns I am seeing trending currently:
Faux Wood and Faux  Stone
If you want your bathroom to feel a little more on the warm side, I recommend giving serious consideration to faux wood or stone.  Why faux instead of the real thing? Well, in a room like a bathroom where the floors get wet, these faux surfaces (usually made of a ceramic material such as porcelain) tend to be a lot more durable and long-lasting.  Designed to look just like the real thing, and available in many shapes, sizes, styles, and colors, your designer can help you create any look and feel you want in your bathroom by using this type of faux flooring. You may even want to create somewhat of a "spa-like" feel, which is one of my personal favorites.  Below are a few bathrooms that give the spa feel, with the faux wood: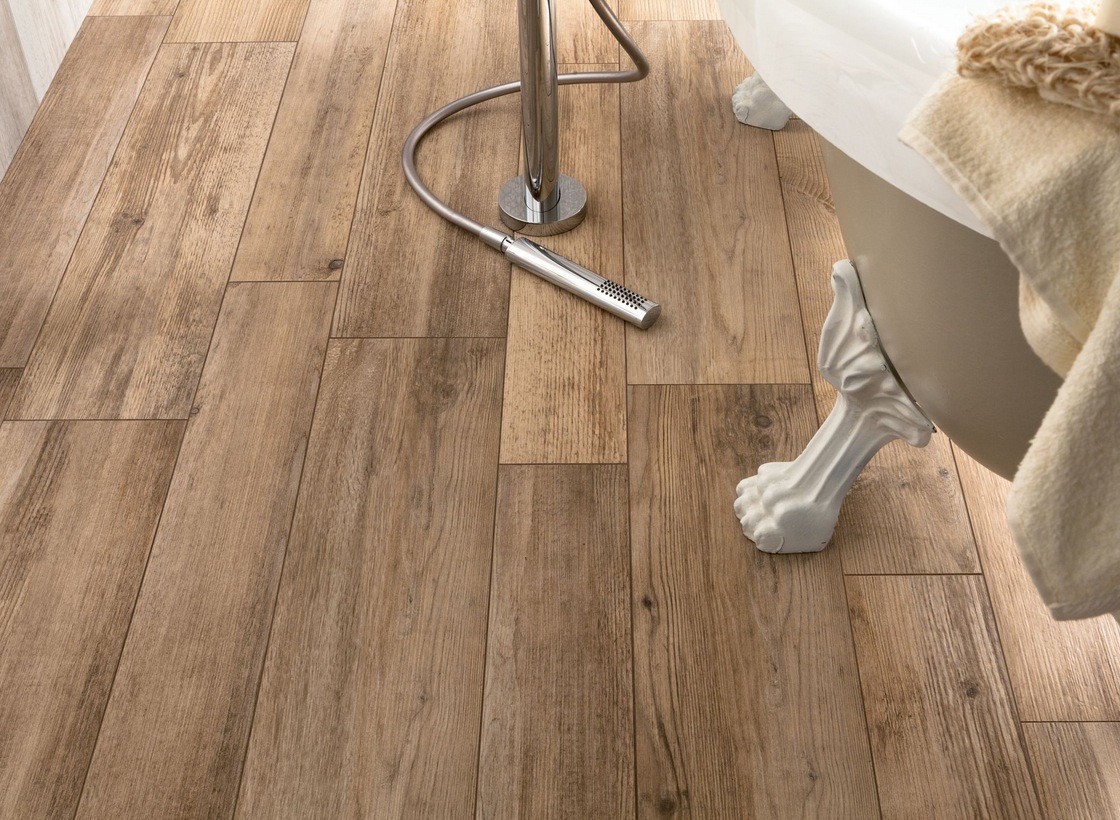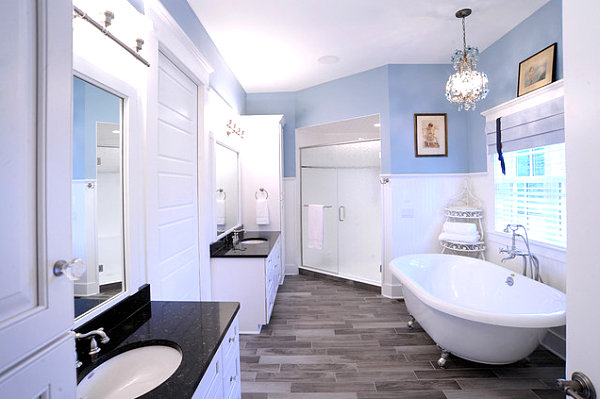 "Pops" of Color
If you still want to stick with more of a traditional neutral type of bathroom design, I recommend you add a little spice with some "pops" of color.   Pops of color are brighter colored accent tiles sprinkled throughout your bathroom. They could be set in a few places on your floor, or possibly even used to create a center rug or  border around your entire bathroom.  Some popular choices are shades of green and blue, or reds & golds.  Once your new tile floor is installed, you can buy towels or other items in a color that matches your "pop," easily creating a brighter feeling bathroom without straying too far away from your traditional design tastes.  To me, it's a great happy medium.  (On a side note, if you are afraid of too much color in your tile for the fear that it will get outdated, paint color is the other way to add pop easily.)  Here are a few examples of colorful tile inserts:
For more information on modern bathroom tile styles and other bathrooms trends, contact me at jessica@essencedesignstudio.com, and I will be happy to help design a bathroom that's right for your home!